Today more than ever, CERTIFIED FINANCIAL PLANNER™ professionals are an essential resource. From budgeting, to planning for retirement, to saving for education, to managing your taxes and your insurance coverage, "finances" doesn't mean just one thing for most Americans — and "financial planning" means much more than just investing. Bringing all the pieces of your financial life together is a challenging task.

Although many professionals may call themselves "financial planners," CFP® professionals have completed extensive training and experience requirements and are held to rigorous ethical standards. They understand all the complexities of the changing financial climate and will make recommendations in your best interest.
From the CFP Board website.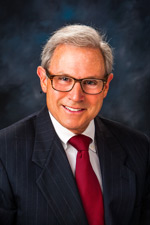 Gary E. Miller: Certified Financial Planner®
Gary has been continuously serving clients in the area of finance and investments for over 30 years. Currently he provides services to clients as a fee-only Certified Financial Planner® and manages their investments on a day to day basis.
Prior to opening his financial planning practice in 2002, Gary was First Vice President-Investments at two New York Stock Exchange member firms. Gary has lectured extensively for the benefits departments of several major corporations and has been quoted in the Wall Street Journal, Barron's Magazine, International Herald Tribune, and the San Francisco Chronicle. He holds a certificate in Personal Financial Planning from the University of California, Irvine. He attended Goddard College, where he majored in Psychology, and California State University, Long Beach, where he majored in Economics. He also completed business and financial accounting courses at California community colleges and the University of California, Irvine.
Gary serves on the advisory board for the University of California Irvine Extension, Management Certificate in Personal Financial Planning. From time to time he teaches a class for UCI Extension, "The Investment Process". Gary also served on the board of directors of the Financial Planning Association, Orange County Chapter from 1999 to 2002.
Gary is an avid skier and surfer, and he unwinds by practicing yoga. He lives in Laguna Niguel, California with his wife, Eileen.